070719
Peak Oil Review No. 29
Innehåll:
1. Crude and gasoline
2. The IEA's Medium Term Oil Market Report
3. Mexico
4. Energy Briefs (20st, här kommer ett axplock:)ran asked Japanese refiners to pay for all crude oil purchases in yen, after Iran's central bank said it is reducing its dollar holdings. Russia has been examining plans to price the Urals oil export blend in rubles to curb currency risks.
Iran and Turkey
signed a preliminary agreement to pump Iranian gas to Europe via Turkey. According to the Iranian oil minister the agreement will open a new export market for Iran's massive reserves of natural gas.
China's crude oil imports
jumped 20 percent in June from a year earlier as production from domestic fields failed to keep pace with energy demand. Imports climbed to 3.45 million b/d. First-half imports are up 11 percent over last year.
South Korea's imports
in May jumped 14.7% from April to 2.5 million b/d.
A report commissioned in the
Netherlands says that wind power will quickly replace nuclear energy as the fossil fuel alternative of choice. The researchers concluded not only will technological advances in the coming years make wind financially competitive but also lack of security costs tied to nuclear energy will further add to the value of wind energy.
Ecuador
is taking measures to increase the country's production of oil after output from state-run Petroecuador declined 14% during the first half of this year compared with the same period in 2006. Losses are largely attributable to strikes in the country's Amazonian provinces, a lack of new project development, and clashes about policy between the energy ministry and Petroecuador.
Legendary oil man
Boone Pickens of BP Capital told CNBC; "I think you're going to see $80 a barrel before I'm 80." Pickens' 80th birthday is in May 2008.
Canada
has announced plans to increase its Arctic military presence in an effort to assert sovereignty over the Northwest Passage - a potentially oil-rich region the United States claims is international territory.
•
The U.K. Parliament formed a group to study peak oil as British lawmakers face up to the country's future as an energy importer. The Parliamentary Group held its first meeting June 26, comprised of 32 members of the House of Commons and seven from the House of Lords. It aims to collate predictions for when production may peak and consider the implications for energy policy rather than push a particular view. "

Quote of the Week


"The latest report from the International Energy Agency makes scary reading. You don't have to be a 'peak oil' doom-monger to believe the world faces an energy crunch. Investors, and everyone else for that matter, need to think through the implications of a significantly higher oil price."
Tom Stevenson, The Telegraph (UK)


Peak Oil Review ges ut av ASPO-USA och en gratis prenumeration fås om man skriver till peakoilreview@aspo-usa.com


070719


Europa och energin
Jacob Nordangård har skrivit en magisteruppsats med titeln "Ödesstund för Europa".

Uppsatsens egen sammanfattning:
"Det här är en berättelse om energi och makt. Den beskriver geografen Halford Mackinders geopolitiska teorier från början av 1900-talet och jämför dem med moderna uppfattningar från bland annat Zbigniew Brzezinski och Michael T Klare. Med en kritisk utgångspunkt ges även en historia om ett Europa som står inför en så svår energiutmaning att den nuvarande ordningen ser ut att falla.

Sedan oljan och senare naturgasen började nyttjas har energin använts som ett geopolitiskt verktyg för att skapa beroenden, kontroll och även för att störta imperier i sank. USA har exempelvis dominerat sina "protektorat" Europa och Japan genom att kontrollera oljeflödet från Mellanöstern. Men detta ser ut att förändras. I förlängningen går det inte utesluta att mörkret permanent lägger sig över Europas städer. Bakgrunden är att de egna lagren av fossil energi minskar i en sådan takt att i stort sett hela behovet måste importeras inom 20 år. Medvetenheten om detta, samt åtagandet att minska koldioxidutsläppen i enlighet med Kyotoavtalet, gjorde att EU i mars 2007 proklamerade att en stor satsning skulle vidtas för att reducera behovet av fossila bränslen. Denna satsning visar sig dock vara otillräcklig för att upprätthålla ett oberoende från andra regioner. Endast en mindre del av behovet kan tillgodoses med inhemskt producerade bränslen. Inte heller de energisparande åtgärderna kan dramatiskt höja energisäkerheten. Tiden är alltför knapp för att ny fantastisk teknik ska kunna rädda Europa ur sin besvärliga situation.

Istället blir beroendet av Ryssland allt större. Detta leder till att den rådande geopolitiska ordningen, där USA både har agerat som Europas militära beskyddare och garant av energisäkerheten, riskerar att falla ihop. Samtidigt som Europa blir mer beroende av energin från öst går USA:s krig i Irak och Afghanistan allt sämre. USA har även ekonomiska bekymmer och ett eget energisäkerhetsproblem. Ryssland har i sin tur agerat med allt större självaktning och målmedvetet byggt allianser med Kina, Mellanöstern och sina forna delrepubliker i Centralasien. Med energin som trumfkort kan Ryssland komma att diktera EU:s framtid. Om EU bibehåller sin allians med USA och försöker utmana eller inlemma Ryssland i sin "unipolära" ordning ökar risken för en allvarlig konflikt. Moskva har i ett sådant läge makt att både mörklägga och kyla ner det europeiska rummet. Eftersom alla behöver energin för sin överlevnad finns en risk att en marsch inleds mot ett fullskaligt krig. Den nya ordningen kan dock bli kort. Inom två decennier kan troligtvis inte längre Ryssland – eller någon annan region – exportera ett överskott. Europa kommer då att sakna både egna energiresurser samt importmöjligheter för att driva sina energisystem. Vad som då händer med det gamla Europa återstår att se."

Här kan du hämta uppsatsen Ödesstund för Europa.(pdf 1,7MB)


070719
Oilwatch Monthly - July 2007
Rembrandt Koppelaar har återigen gjort ett mycket bra nyhetsbrev. Mängder av grafer där man t.ex. kan se vilka OPEC-medlemmar som producerar över eller under sin kvot.

"In this light OPEC's reasoning appears to be nothing more than a veil to give the impression that the cartel is still able to increase output at any given moment. If OPEC no longer possesses this ability, in other words, the recent production declines in Saudi Arabia are not artificial but geological, then the oil market is in for a big shock inthe 2nd half of 2007."

Här finns det 16-sidiga nyhetsbrevet som pdf (1,15MB)


070719
TV-intervju med David Strahan
Strahan intervjuas av George Galloway, brittisk omstridd parlamentsledamot, i programmet "The Real deal".
Intervjun sker med anledning av Strahans bok (se nedan) och en artikel i The Guardian: The real casus belli: peak oil
Ur artikeln:
"Cheney knew, fretting about global oil depletion in a speech in London the following year, where he noted that "the Middle East with two thirds of the world's oil and lowest cost is still where the prize ultimately lies". Blair too had reason to be anxious: British North Sea output had peaked in 1999, while the petrol protests of 2000 had made the importance of maintaining the fuel supply excruciatingly obvious."

Intervjun där man även tar upp tittarfrågor under tiden finns hos europeiska The OilDrum och har titeln British MP interviews David Strahan, author "The Last Oil Shock. Filmen är 19 minuter lång och i flash-format.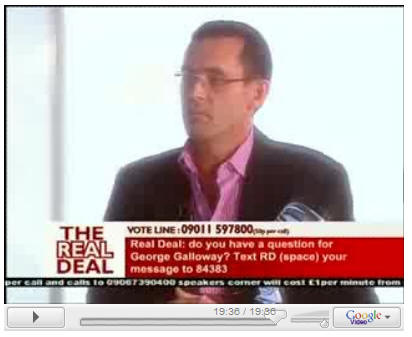 Filmen finns även hos Google där man även kan ladda ner den.


070719
The Last Oil Shock – A Survival Guide to the Imminent Extinction of Petroleum Man
Lång och intressant titel på en ny bok av David Strahan, journalist, författare, ODAC-aktiv mm. Två månader efter publicering är den redan inne på tredje tryckningen.

"The last oil shock is the secret behind the crises in Iraq and Iran, the reason your gas bill is going through the roof, the basis of a secret deal cooked up in Texas between George Bush and Tony Blair, and the reason you may soon be kissing your car keys and boarding pass goodbye. This title explains how we reached this critical state."

Boken finns hos bl.a. Adlibris och kostar 194:-


070702
ASPO Nyhetsbrev Juli
Innehåll:
832. Kuwait Confession Confirmed
833. Agriculture: turning oil into food
834. Oil and Money
835. Oil Film
836. High grade uranium depletes too
837. Report by the National Petroleum Council of W ashington
838. Peak Oil and Climate Change
839. Changing EIA Forecasts
840. The IEA Confesses too
841. BP Statistical Review
842. Two noteworthy quotes
843. ASPO6, Ireland, September 17-18

Här kan du hämta nyhetsbrevet(pdf).


070702


När oljan inte räcker - ny teknik, nya tänkesätt, ny samhällsstruktur
Högskolan i Jönköping har en kvartsfartskurs med den titeln på 7,5p.
Per Bergström håller i kursen som drar igång nu till hösten.

"Kursinnehåll
• Olika bedömningar av de fossila bränslenas framtid
• Olika sätt att få fram energi
• Möjligheter till effektiviseringarmed ny teknik
• Nödvändiga strukturomvandlingar
• Andra konsekvenser av fossilbränslebrist"

Sista anmälningsdag var den 15/4. Om det finns någon plats kvar kanske det går att komma med ännu.

Mer information finns på s.38 i kurskatalogen.